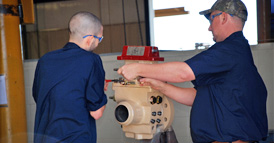 Serving You to Infinity and Beyond
Infinity Valve & Supply has the knowledge and expertise to handle your valve repair and maintenance needs in a safe, cost effective, and professional manner. Our experienced service department is second to none; whether you're in need of in-house or on-location repair.
Maintenance
Our planned maintenance program is recommended as a proactive approach to minimize wear and tear and to prolong the life and reliability of all your pressure control equipment. Proper maintenance will keep your field, whether active or idle, in compliance.
Inventory Management
Infinity Valve & Supply offers an inventory management program to provide our customers with storage options for surplus equipment. Your equipment can be stored in as-is or ready-to-go condition.
Repair
Our highly qualified technicians are available 24 hours a day to provide you with timely repair of your ANSI & API valves, as well as other oilfield equipment. Our technicians perform onshore, offshore and in house valve servicing to save our customers time & money. This is our #1 priority.
Valve Exchange
When time is of the essence, our valve exchange program provides a fast, affordable solution. Costly down time is eliminated by providing a reconditioned valve in exchange for your valve. Your only expense is for the cost to repair your valve.